新聞稿(即時發佈)                                                                    2014年1月3日
全港知名殿堂級英語教育專家Miss Cecilia Chan另一精心著作
A Speedy Guide on Tenses for Lazy Students
實用而全面的Tense最佳指南 中小學生應試前的必讀本
Photos: http://www.seedland.hk/press/phonic/s1/
Press release: http://www.seedland.hk/press/phonic/s1/speedy_t.doc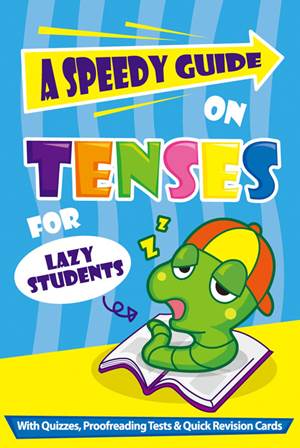 「I'm loving it跟I love it有何分別?」
「現在完成式?過去完成式?何時該用哪種式?」
「過去完成進行式?意思是已完成或進行中?」
「甚麼?Tense練習都有公式可循?」
萬眾期待,A Speedy Guide on Tenses for Lazy Students讓你及你的孩子茅塞頓開,打通所有Tense脈絡!Tense(時態)是中小學生英文科考試測驗的必考題目,然而隨着學習的種類越多,同學難免漸漸感到困難和混亂,對此類題目望而生畏,更有同學甚至採取放棄態度。全港知名殿堂級英語教育專家Miss Cecilia Chan告訴大家,Tense練習其實有公式可循,只要學懂每種Tense背後的小訣竅,瞭解應用時的環境和時段,自然能建立最牢固的英文基礎,在考試、測驗和練習路上無往而不利,成績突飛猛進!
Miss Cecilia Chan擁有逾二十五年教學經驗,深明小學高年級生和中學生在應試時對Tense練習的無助感,特意編寫A Speedy Guide on Tenses for Lazy Students,貼心地以簡明方式闡述各類型Tense,配以生活化的例句,務求讓學生迅速高效地準確掌握重點。讀畢此書,同學不但能100%正確地完成所有Tense試題,亦在此範疇重獲信心,輕鬆地駕馭語法正確的句子,大大提升寫作時的文法準確度、行文流暢度等評分。
全書主要分為現在式、過去式及將來式三部分,涵蓋十一種最常用的Tense,每章重點列出有關Tense的「提示字眼(Hint Words)」,並附有練習,即時鞏固學習基礎。十一個章節後再附設二十個練習,讓同學溫故知新。A Speedy Guide on Tenses for Lazy Students的另一亮點是隨書附送的精讀卡,把全書筆記部分濃縮成一疊二十張的小卡,讓同學在應試前作最後衝刺,為同學注入能量,學習Tense的過程從未如此簡單、有趣、輕鬆、愉悅!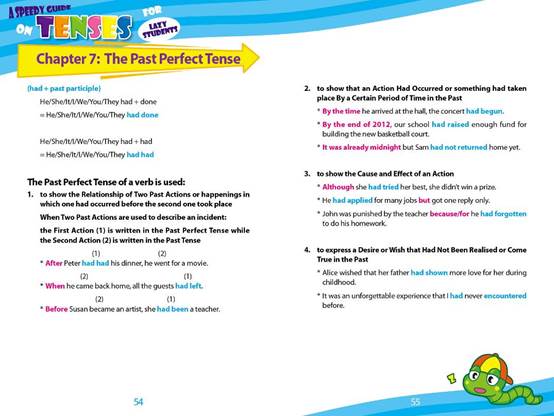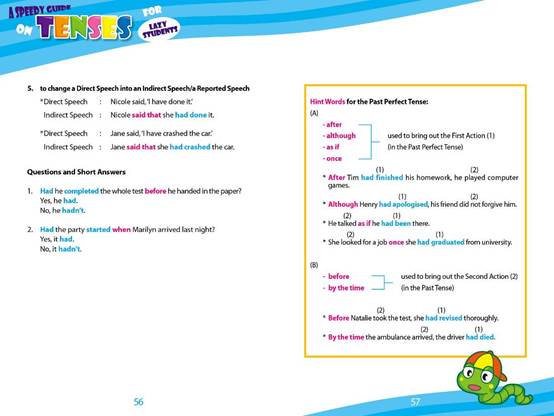 A Speedy Guide on Tenses for Lazy Students的作者Miss Cecilia Chan,為資深英語教育專家,秉持對英文教育的專業知識及熱誠,曾教導的學生遍及瑪利曼小學、瑪利曼中學、拔萃男書院、拔萃女書院、聖保羅男女中學、聖保羅書院、聖若瑟書院、番禺會所華仁小學等超過三十間著名本地及國際學校,桃李滿門。當中不少學生,更先後於每年的校際朗誦節及其他公開比賽贏取殊榮。為了進一步推廣英語教育,Miss Cecilia Chan於2012年推出了Bravo Learning系列My 1st to 5th Phonic Books,以輕鬆富趣味性的手法教導幼兒Phonics自然拼音法,帶領孩子昂然打開英語世界的大門,該書自推出以來深受老師和家長喜愛及推崇。2013年,Miss Cecilia Chan再接再厲,推出同系列A Speedy Guide on Tenses for Lazy Students,讓中小學生掌握Tense的運用重點,從此無懼Tense挑戰。
書名:A Speedy Guide on Tenses for Lazy Students

系列:Bravo Learning

作者:Cecilia Chan

總編輯:許芷茵

類別:英語教材

售價:港幣$89

ISBN:978-988-15573-1-5

出版:一口田出版有限公司

電話:(852) 3583 3100

地址:香港黃竹坑道65號志昌行中心25樓B室
發稿:一口田有限公司
電話:3583 3100     傳真:3583 1331     電郵:info@seedland.hk
查詢詳情或預約個別專訪、產品或封面拍攝,歡迎致電3583 3100一口田有限公司與Miss Adrienne Wong(9450 9757或adrienne@seedland.hk)或Miss Jackie Liu(3583 3300或jackie@seedland.hk)聯絡。
For Immediately Release                                                     3rdJanuary, 2014
A Speedy Guide on Tenses for Lazy Students
The latest creation of experienced expert in English education Miss Cecilia Chan
Your most practical, comprehensive and must-have tense guide
Photos: http://www.seedland.hk/press/phonic/s1/
Press release: http://www.seedland.hk/press/phonic/s1/speedy_e.doc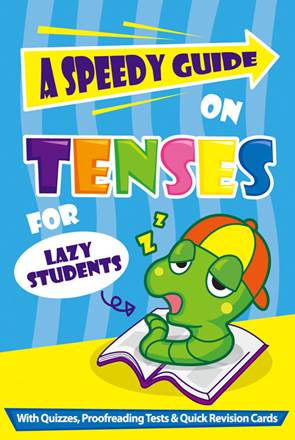 "What is the difference between 'I'm loving it' and 'I love it?'"

"How can we distinguish between the Present Perfect Tense and Past Perfect Tense?"
"Is the 'Past Perfect Continuous Tense' completed in the past?"
"Are there formulas to follow?"
The long-awaited study guide for verb tenses is here! A Speedy Guide on Tenses for Lazy Students is going to enlighten you and your child. The usage of tense is compulsory in nearly all English examination papers. While more and more types of tenses are learnt, it is inevitable that a lot of students will get confused, and in turn, view it as a daunting task. Well-known English educator Miss Cecilia Chan assures, there are actually some formulas that can be followed when practising tenses which would enable students to have a clearer understanding about when to use a specific tense and help them apply it with ease. This establishes the most solid foundation in English and is very useful when it comes to examinations, quizzes and exercises.
With over 25 years of teaching experience, Miss Chan recognizes the sense of helplessness that many students encounter before examinations, especially regarding verb tense. Thus, she has written A Speedy Guide on Tenses for Lazy Students which provides simple and easy-to-understand examples for upper primary and secondary school students in preparation for the most amount of academic assessments. Not only will they learn how to get the tenses 100% correct, they also gain confidence in composing grammatically correct sentences and in time, writing fluent compositions and essays.
The book is mainly divided into three parts: the present tenses, the past tenses and the future tenses; covering the 11 most common tenses. After every chapter, there are exercises for students to practise the tense learnt. The quizzes that follow help them consolidate the use of "Hint Words" to identify the correct tenses in completing a passage. Students are then encouraged to do the 20 final revision exercises (including proofreading tests) to check their understanding of the use of different tenses in a variety of contexts. As a gift, enclosed is a set of "quick revision cards" that serve as an effective revision tool for tenses before English tests and examinations. With the confidence gained in using tenses, students will feel the renewed energy and enthusiasm in them when they find writing good English a much easier task, if not, a joy and pleasure!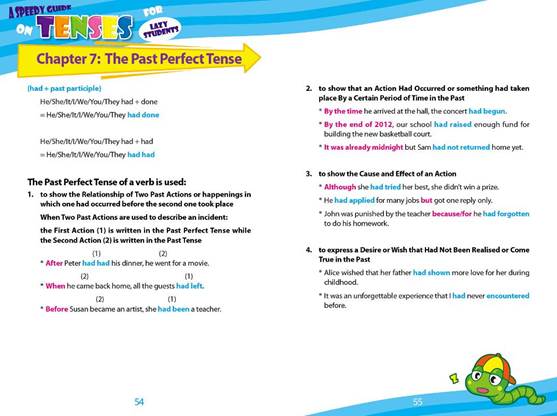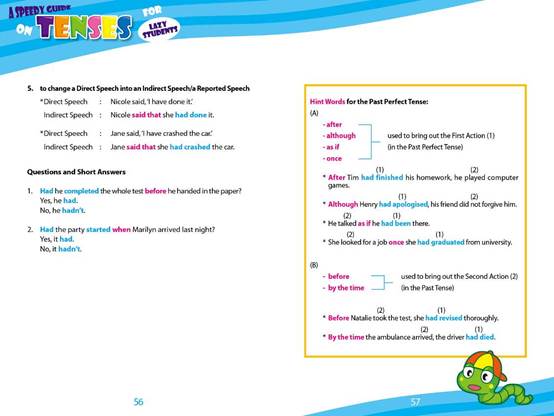 The author, Miss Cecilia Chan, is a well-known English educator. Passionate and experienced in teaching English, Miss Chan has taught students from over 30 schools in Hong Kong, including Marymount Primary School, Marymount Secondary School, Diocesans Boys School, Diocesans Girls School, St. Paul's Co-educational College, St. Paul's College, St. Paul's Convent School (Primary Section), St. Paul's Convent School (Secondary Section), Pun U Association Wah Yan Primary School and other international schools. Many of Miss Chan's students have won championships and prizes in English Solo Verse Speaking, Prose Reading, Public Speaking and Dramatic Duologue at the Hong Kong Schools Speech Festivals and other interschool open speech contests.
Driven by her passion in promoting English learning, Miss Chan launched the Bravo Learning Series "My 1st to 5th Phonic Books" in 2012 and "A Speedy Guide on Tenses for Lazy Students" in 2013, as effective tools to foster a love of English reading and learning in young children, primary and secondary school students.
Title: A Speedy Guide on Tenses for Lazy Students

Series: Bravo Learning

Author: Cecilia Chan

Editor-in-Chief: Helena Hui

Categories: English Learning Tool

Price: HK$89

ISBN:978-988-15573-1-5

Publishing House: Seedland Publishing Limited

Tel: (852) 3583 3100

Email: info@seedland.hk

Address: Unit B, 25/F, Gee Chang Hong Centre, 65 Wong Chuk Hang Road, Hong Kong.
Released by: Seedland International Limited
Media enquiries:
Tel: 3583 3100     Fax: 3583 1331     E-mail: info@seedland.hk
Contact persons: Miss Adrienne Wong (9450 9757 or adrienne@seedland.hk) or Miss Jackie Liu (9197 6791 or jackie@seedland.hk)
.