Please scroll down for English
新聞稿                                                                               2021年2月25日
疫情無礙善舉       支援基層兒童
基督教勵行會「香港浸信會醫院日間醫療中心2人3足勵同行」改於網上舉行
Online version: http://www.public.seedland.hk/press/christian-action/2102-3-Legged/
Press release and Photos: Click Here (OneDrive)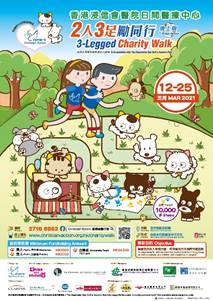 基督教勵行會「香港浸信會醫院日間醫療中心2人3足勵同行」慈善籌款活動受到新冠疫情影響,未能一如以往以實體形式舉行,各界人士的善行善舉卻仍可透過互聯網傳達及弘揚。本年度「2人3足勵同行」由香港浸信會醫院日間醫療中心冠名贊助、清水灣鄉村俱樂部全力協辦,將改於網上舉行,參加者只需登入 www.christian-action.org.hk/charitywalk 填妥報名表格,並於3月12至25日累積步行10,000步,即可為基督教勵行會籌款,支持該會服務香港低收入家庭兒童、青海孤兒及殘障兒童的慈善工作。
渴求知識的孩子
就讀小二的鋒鋒與母親及弟妹居於狹小的劏房,單親的媽媽是越南華僑,不諳中、英文,坦言「不識字,未能教導孩子」是她生活上最大的困難。2020年11月起,鋒鋒到基督教勵行會旺角服務中心接受課餘託管服務,媽媽表示:「有人幫到他做功課,我就開心。希望他學業能跟上進度,讀好書。」鋒鋒的弟妹也受惠於中心的服務,妹妹數個月大時得到物資援助,包括奶粉及尿片等,減輕了媽媽的負擔,「如沒有這些支援,我跟孩子只能不吃早餐以節省金錢。」
跨越死亡的小勇士
現時約三歲的健健在襁褓時被發現呼吸微弱、臉色發紫,其後獲安排送到基督教勵行會海西州兒童福利院。經過醫院搶救後,健健保住了性命,但留院時醫生發現其心臟、肺部及胃部有其他症狀,建議他到西寧作進一步檢查。2018年6月,基督教勵行會安排健健前往西寧接受治療,並提供康復訓練,至2019年,其健康狀況基本上已回復正常。
參加「香港浸信會醫院日間醫療中心2人3足勵同行」
活動分為雙人(全日制學生組)、雙人(公開組)及企業組,參加者年齡不限,14歲或以下兒童建議由家長或監護人陪同參與。參加者須登入 http://www.christian-action.org.hk/charitywalk 填妥報名表格,以2至10人為一組,於3月12至25日期間,每人累積步行10,000步,時間、地點、形式不限,利用智能手表或手機應用程式記錄步行活動,再將截圖連同2人3足團隊的合照上載至活動指定網頁。
參加者更可以透過電郵、WhatsApp及Facebook分享自己的「籌款專頁」,邀請親友支持。活動完成後,成功達標的參加者將獲發電子證書乙張,而每名成功報名的參加者均可在指定時段內領取活動紀念品。除了各組別的最高籌款額獎之外,為答謝企業的熱烈支持,參加活動人數最多的企業將獲頒「最人強馬壯企業大獎」。有關活動的查詢,請致電2716 8862或電郵至charitywalk@christian-action.org.hk。
精美紀念品包括獎牌及毛巾
基督教勵行會總幹事張洪秀美太平紳士表示:「基督教勵行會以服務弱勢、被邊緣化及流離失所的社群,以及被遺棄的兒童為使命,在新冠疫情持續超過一年的影響下,急需支援的兒童及家庭數字大幅上升,本會的人道工作亦日益繁重。鑑於疫情反覆,本會的慈善籌款活動『2人3足勵同行』將改以網上形式舉行,參加辦法更為簡單、更加靈活、更具彈性,在此呼籲社會各界及善長仁翁繼續大力支持,讓本會服務香港低收入家庭兒童、青海孤兒及殘障兒童的慈善工作得以持續發展,感謝大家!」
有關基督教勵行會
基督教勵行會成立於1985年,是一所本地註冊慈善團體,使命是幫助貧困、弱勢、被邊緣化和流離失所的社群,帶給他們希望、尊嚴及自立能力。現時服務對象包括基層兒童及青年、失業人士、低收入家庭、少數族裔、難民、外籍傭工及青海孤兒,並營運社會企業,以耶穌基督作為榜樣,服務有需要的社群,不論其年齡、性別、國籍及宗教信仰。www.christian-action.org.hk
發稿:基督教勵行會
代行:一口田有限公司
電話:3583 3100         傳真:3583 1331         電郵: info@seedland.hk
如欲查詢詳情及索取照片,歡迎與Ms Chanel Leung聯絡(電話:9197 3051;電郵:chanel@seedland.hk)。
Press Release                                                                      25th February 2021
The HKBH Ambulatory Medical Centre 3-Legged Charity Walk organised by Christian Action to be held virtually in face of the pandemic
Online version: http://www.public.seedland.hk/press/christian-action/2102-3-Legged/
Press release and Photos: Click Here (OneDrive)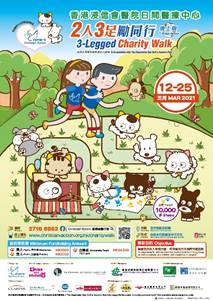 In face of the COVID-19 epidemic, the HKBH Ambulatory Medical Centre 3-Legged Charity Walk organised by Christian Action and supported by The Clearwater Bay Golf & Country Club could not be held in physical form this year. Nevertheless, the philanthropic acts of the public can still be upheld with the power of the Internet. Participants can sign up by filling in an application at www.christian-action.org.hk/charitywalk and raise funds for Christian Action to support children from low-income families in Hong Kong and orphans and children with disabilities  in Qinghai by achieving 10,000 steps anywhere, anytime between 12th to 25th March 2021.
Children hungry for knowledge
Primary Two student Feng Feng lives with his mother and siblings in a tiny sub-divided flat. His single mother, who was originally from Vietnam and speaks only limited Chinese and English, regarded "being illiterate and incapable of helping the children with their homework" as her toughest challenge. Since November 2020, Feng Feng has enrolled in the afterschool childcare programme at Christian Action's Mongkok Service Centre. His mother happily shared, "I am glad that someone at the Centre can help him with his homework. I hope he can catch up and study well." Feng Feng's younger siblings also benefited from the services provided by the Centre. When his sister was only a few months old, the family received material aids, including baby formulas and diapers, which helped ease the single mum's burden. She said, "Without the aids, we would have to skip breakfast to save money for those items."
The little warrior who overcame death
Jian Jian, who is now about three years old, was drawing a faint breathe with a pale face when he was found abandoned. He was sent to Haixi Children's Home immediately. The boy's life was saved after emergency treatment in the hospital, but the doctor discovered other symptoms in his heart, lungs and stomach during hospitalisation and made recommendation to transfer him to Xining for further examination. In June 2018, Christian Action arranged a transfer for Jian Jian to Xining for treatment, together with rehabilitation training exercises. He has basically restored normal health as of 2019.
To participate in the HKBH Ambulatory Medical Centre 3-Legged Charity Walk organised by Christian Action
The walk comes in three categories – Pairs (Full-time Students), Pairs (Public) and Corporate Team. Participants of all ages are welcome while children aged 14 and below are recommended to join the event with a parent or a guardian. To enter, please register at www.christian-action.org.hk/charitywalk, team up in groups of two to ten, and accumulate 10,000 steps per person between 12th to 25th March.
Although there are no limitations on time, location and format, participants are requested to record their walking activities with a smart watch or a mobile app, and upload the screenshot with a team photo to the event website. Participants can also invite their family and friends to support them by sharing their fundraising page via email, WhatsApp and Facebook. After the event, participants who have completed the task will receive an e-certificate while all registered participants are eligible for collecting a gift pack within a designated time period.
In addition to the Highest Fundraising Amount Award for each category, the corporation with the most participants will receive the Most Participants Award, as an acknowledgement of the great support from corporate groups. For enquiries, please contact 2716 8862 or charitywalk@christian-action.org.hk.

The gift pack includes a medal and a towel
Mrs. Cheung-Ang Siew Mei, JP, Executive Director of Christian Action, remarks, "It is Christion Action's mission to serve those who are poor, disadvantaged, marginalised, displaced or abandoned. Our charitable cause continues to go strong amidst the year-long COVID-19 pandemic that has caused an acute increase in the number of children and families in need. Owing to the epidemic, our annual 3-Legged Charity Walk will be held online this year, offering more convenience and flexibility to the participants. I would like to take this opportunity to call upon members of the society and generous donors to render their support for our organisation so that we can continue to serve low-income families in Hong Kong as well as orphans and children with disabilities in Qinghai. Thank you!"
About Christian Action
Christian Action was established in 1985 as a Hong Kong registered charitable organisation, with the mission is to serve those who are poor, disadvantaged, marginalised, displaced or abandoned, aiming to give them hope, dignity and self-reliance. Its service recipients include underprivileged children and youth, the unemployed, low-income families, ethnic minorities, refugees, migrant domestic workers, as well as orphans and abandoned children in Qinghai. Christian Action also runs social enterprise programmes. Its services are based on the example of Jesus Christ to serve all people regardless of their age, gender, nationality and religion.
Released by Seedland International Limited
On behalf of Christian Action
Media enquiries:
Tel: +852 3583 3100                            Fax: +852 3583 1331
Website: www.seedland.hk               E-mail: info@seedland.hk
Contact:
Ms Chanel Leung (+852 9197 3051 / chanel@seedland.hk)