Please scroll down for English
新聞稿(即時發佈)                                2017年4月28日
致總編輯/港聞版編輯/教育版編輯/親子版編輯
許曉暉、馬時亨、楊大偉及逾300本港師生出席首屆「香港品格日」感恩禮
齊心推動品格教育遍地開花
Online version: http://www.seedland.hk/press/cday/1704-ceremony/
Press release and photos: Click Here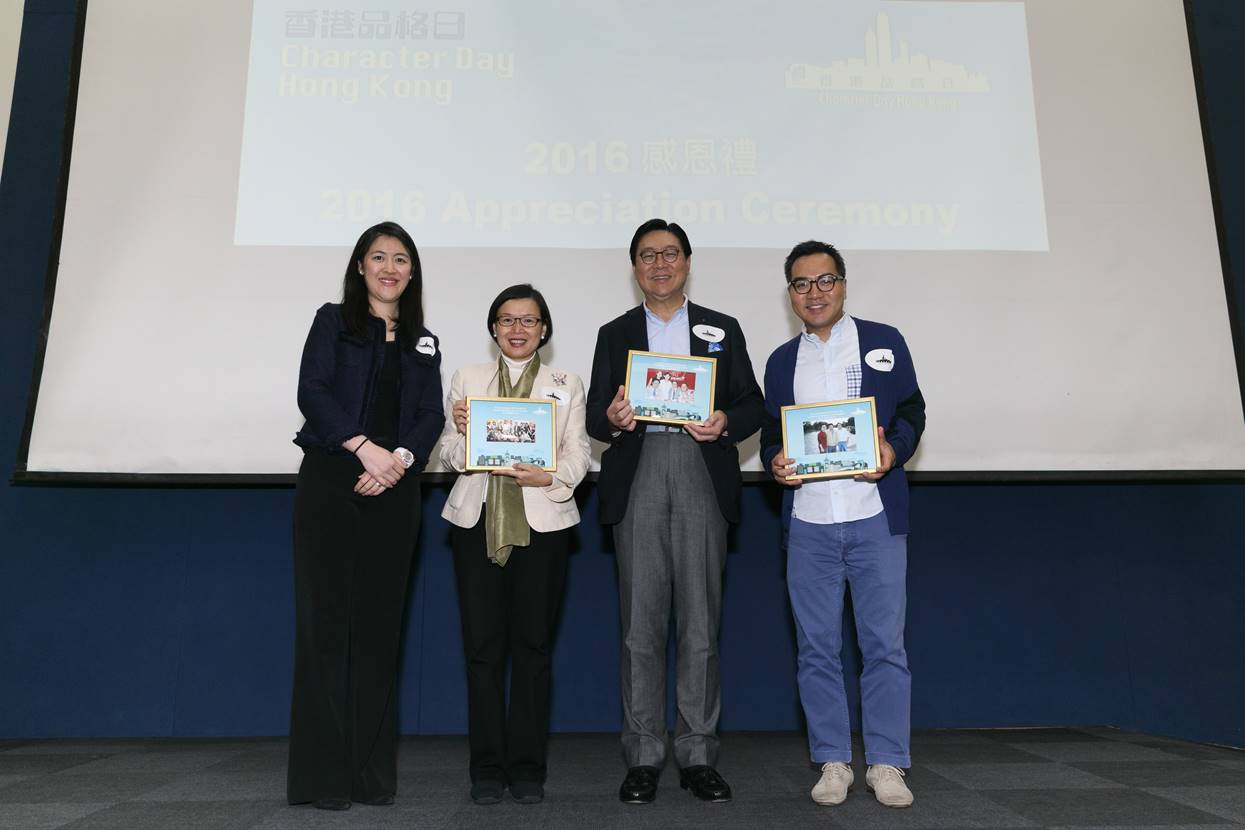 以「感恩」為主題的首屆「香港品格日」圓滿舉行,獲超過200家學校及機構響應。為感謝一眾團體的支持,品格教育協會於本年4月28日取址溫莎公爵社會服務大廈舉行感恩禮,邀請到多位「香港品格日大使」、各支持機構代表,及各參與學校及機構代表濟濟一堂,齊齊分享大家努力的成果,場面熱鬧。同場並宣佈第二屆「香港品格日」將以「善良Kindness」為主題,期望活動繼往開來,讓品格教育繼續在社區及學界發光發亮。
感恩禮首先由品格教育協會主席及「香港品格日」創辦人劉馬露明女士致辭,並感謝七位「香港品格日大使」的支持,包括港鐵非執行主席馬時亨教授,GBS,JP、香港中文大學校長沈祖堯教授,SBS,JP、民政事務局副局長許曉暉女士,SBS,JP、社會企業Green Monday聯合創辦人楊大偉先生、元崗幼稚園校長呂麗紅女士、著名演員方力申先生,以及著名演員林嘉欣小姐。隨後,劉馬露明女士代表品格教育協會,逐一向三位親臨支持感恩禮的大使許曉暉女士、馬時亨教授及楊大偉先生致送紀念品。三位「香港品格日大使」分別致辭,分享有關品格教育的見解,並擔任頒獎嘉賓,向參與「2016香港品格日」的學校及機構代表頒發感謝狀。
除了總括「2016香港品格日」的佳績,劉馬露明女士與一眾「香港品格日」籌備委員包括鍾有榮先生、許芷茵女士、李蘇珊女士、凌葉麗嬋女士、麥珍莉女士、麥嘉珩女士及沈董彥甄女士更主持簡單而隆重的啟動儀式,宣佈「2017香港品格日」將於2017年9月13日舉行,主題為「善良Kindness」,口號則為「選擇善良Choose Kindness」。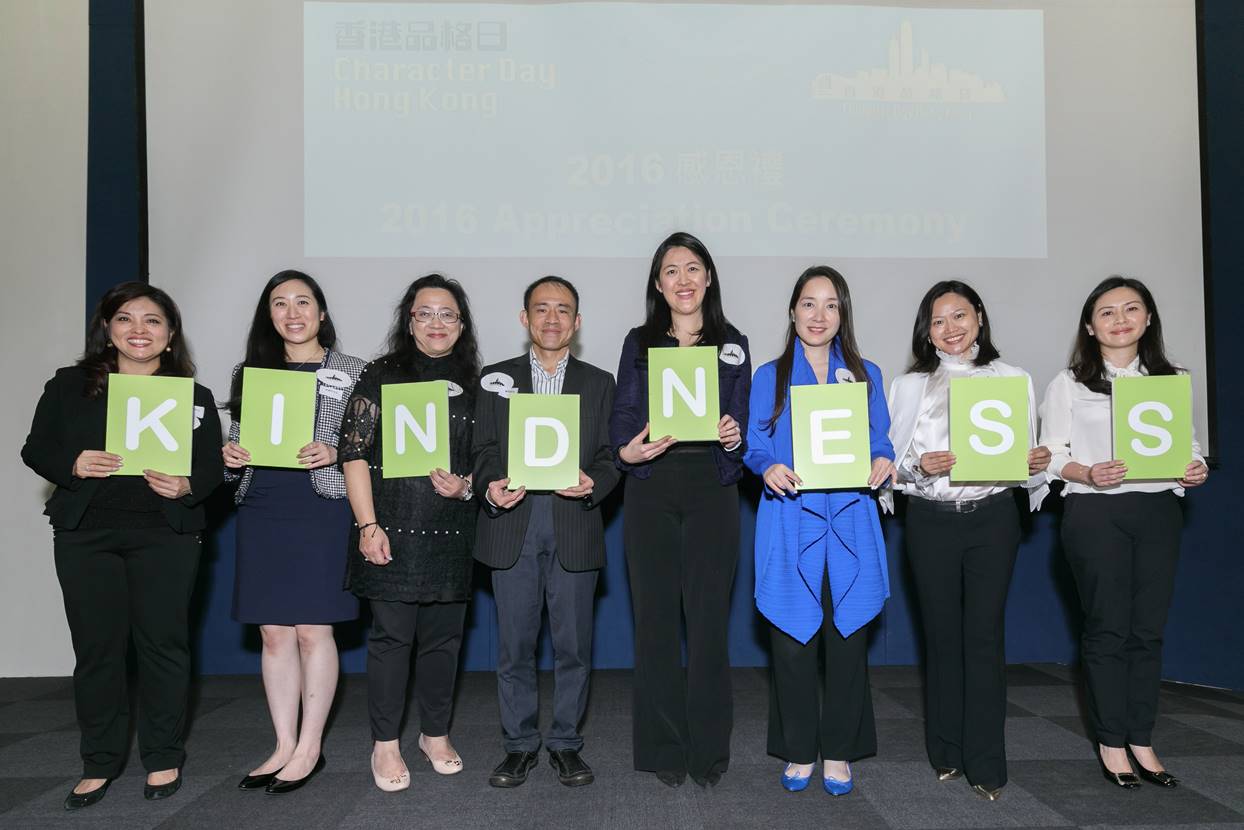 劉馬露明女士分享:「我們去年的活動主題是『感恩』,提醒大家在日常生活中常懷感恩之心。在短短數個月之間,我們不但有幸邀請到七位社會知名人士擔任『香港品格日大使』,活動更獲得超過200家學校及機構積極參與,成績令人喜出望外。知道社會、坊間和校界有這麼多有心人一起推動品格教育,我們感到鼓舞的同時,更是無限感恩。將於9月舉行的『2017香港品格日』,主題是『善良Kindness』,常言道:『聰明是一種天賦,善良是一種選擇。』每一個人天生都有善良的素質,是否發揮,如何發揮,是今次我們希望透過『2017香港品格日』鼓勵大家去好好思考的課題。衷心希望大家繼續支持『香港品格日』及香港的品格教育工作!」
發稿:品格教育協會         
網站:www.characterday.hk
臉書:https://www.facebook.com/characterdayhk/
代行:一口田有限公司
電話:3583 3100                        傳真:3583 1331    電郵:info@seedland.hk
如欲查詢詳情、索取照片或安排訪問,歡迎致電9197 6791與Miss Jackie Liu聯絡。
Press Release (For Immediate Release)                    28th April 2017
Florence Hui, Frederick Ma, David Yeung and over 300 teachers and students gathered at the Appreciation Ceremony to cheer for the great success of the first edition of Character Day Hong Kong
Online version: http://www.seedland.hk/press/cday/1704-ceremony/
Press release and photos: Click Here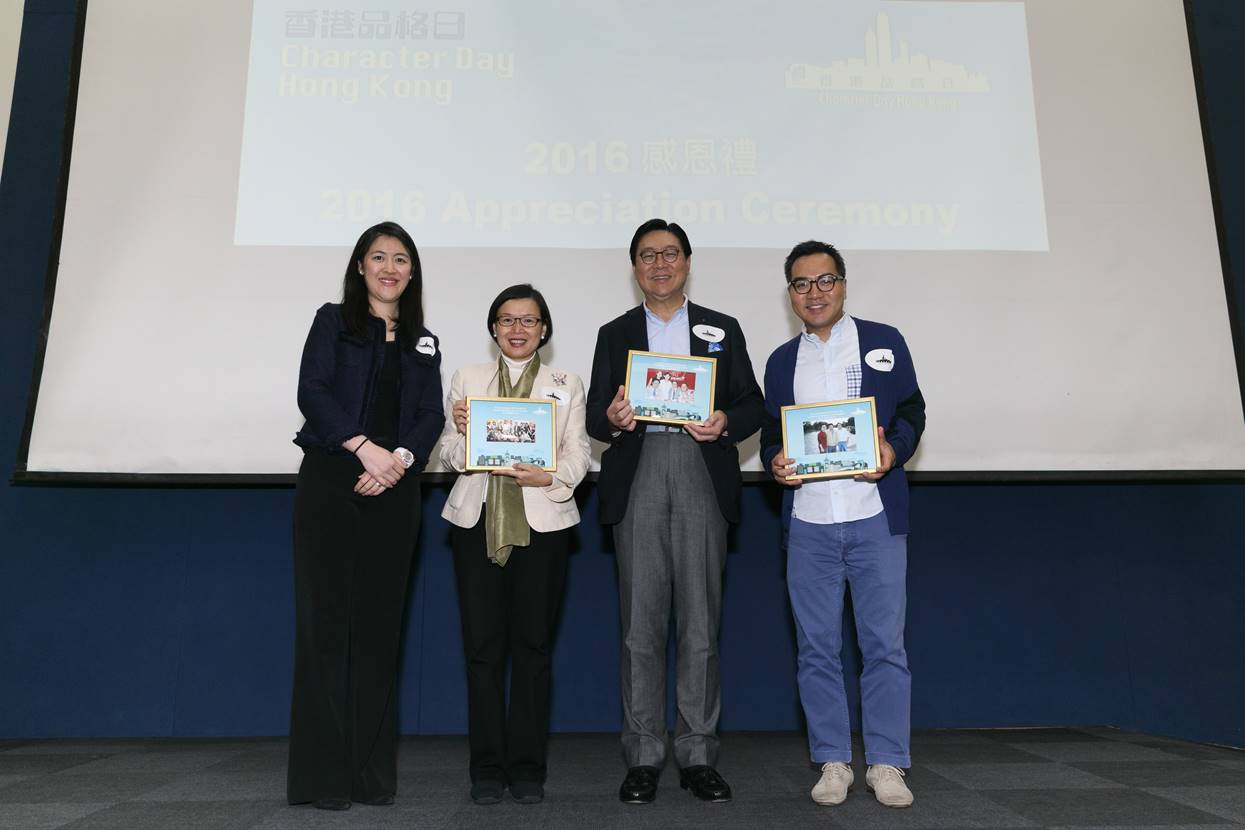 Themed "Gratitude", the first Character Day Hong Kong came to a successful close with overwhelming response from over 200 schools and organizations. In recognition of the generous support from all parties, an Appreciation Ceremony was held by Character Education Foundation on 28th April 2017 at Duke of Windsor Social Services Building. Ambassadors, representatives of supporting organizations as well as representatives of participating schools and organizations were invited to gather together to share the joy of the attainment. It was also announced at the Ceremony that the theme of the upcoming 2017 Character Day Hong Kong would be "Kindness". The organizer took the opportunity of such a gracious occasion to appeal for the continuous support of the schools, organizations, corporations and the public.
The Appreciation Ceremony commenced with a welcoming speech by Mrs. Christine Ma-Lau, Chairperson of Character Education Foundation and Founder of Character Day Hong Kong. She expressed her most sincere gratitude to the Ambassadors, namely Prof. Frederick Ma Si-hang, GBS, JP, Non-executive Chairman of MTR, Prof. Joseph Sung, SBS, JP, Vice Chancellor of The Chinese University of Hong Kong, Ms Florence Hui, SBS, JP, Under Secretary for Home Affairs, Mr. David Yeung, Co-founder of Green Monday, Ms Lilian Lui, Principal of Yuen Kong Kindergarten, renowned actor Mr. Alex Fong and renowned actress Ms Karena Lam for their support. Mrs. Christine Ma-Lau then presented souvenirs to the three ambassadors who attended the Ceremony, including Ms Florence Hui, Prof. Frederick Ma Si-hang and Mr. David Yeung, who gave a sharing on their insights into character education. The Ambassadors then took the stage to present certificates of appreciation to the representatives of schools and organizations that had participated in 2016 Character Day Hong Kong.
Apart from closing the curtain of the first Character Day Hong Kong, Mrs. Christine Ma-Lau also joined hands with her fellow members of the Organizing Committee of Character Day Hong Kong, namely Mr. David Chung, Ms Helena Hui, Ms Susan Lee, Mrs. Josephine Ling, Ms Virginia Mak, Ms Connie Mak and Mrs. Elaine Tung Shum, to announce that the next Character Day Hong Kong will be held on 13th September 2017, the theme is "Kindness", and the slogan is "Choose Kindness".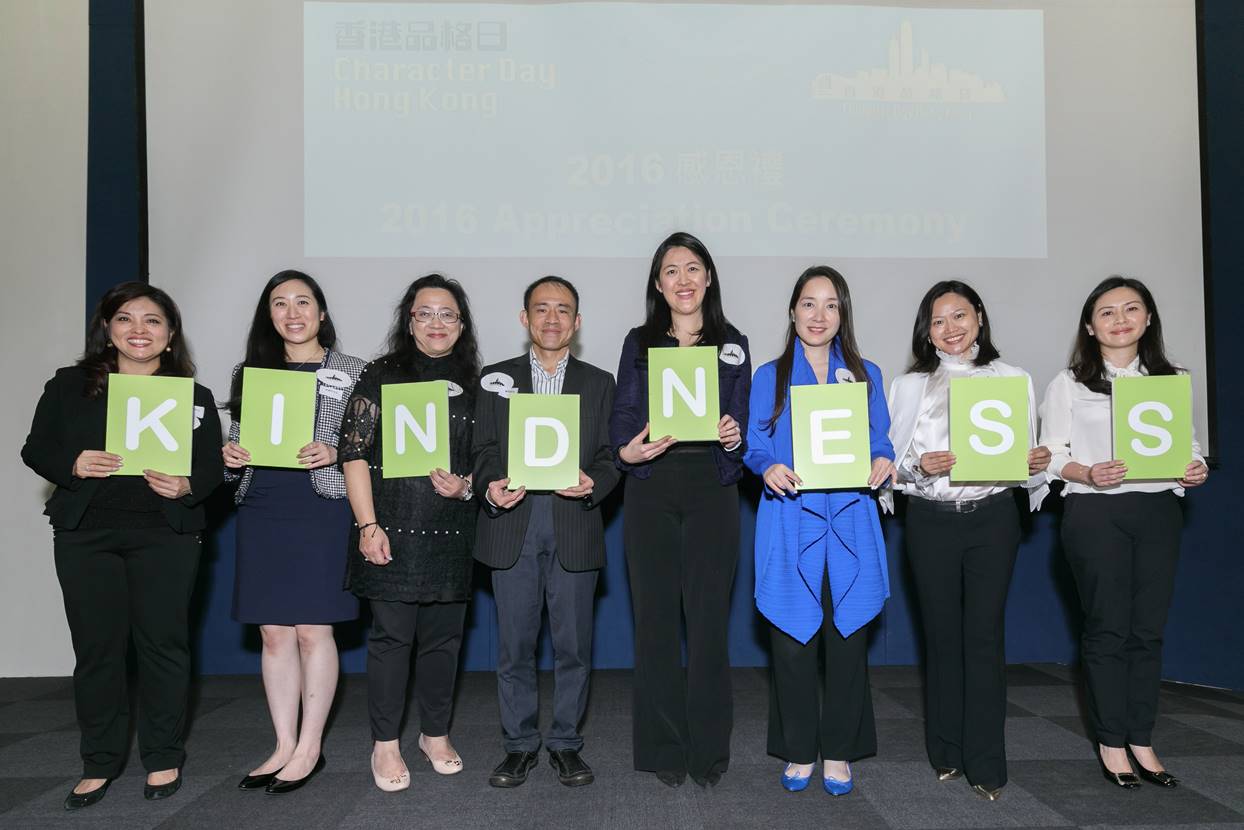 Mrs. Christine Ma-Lau, remarked, "The theme last year, 'Gratitude', reminds us to have a thankful heart. Within a very short period of time, not only are we able to gain support from seven Ambassadors, but we are also pleasantly surprised by the enthusiastic participation of more than 200 schools and organizations. We are deeply encouraged and grateful to know that there are many people in the society and the education sector who seek to support character education. The theme of '2017 Character Day Hong Kong' is 'Kindness'. There is a saying, 'Cleverness is a gift, Kindness is a choice.' We believe everyone is born with kindness, and everyone has a choice. And through 2017 Character Day Hong Kong, please join us to tell the world: 'Choose Kindness!' Thank you! Thank you for everything you have done for supporting character education. Please continue to do so. See you in 2017 Character Day Hong Kong."
Released by:
Seedland International Limited
On behalf of Character Education Foundation
Website: www.characterday.hk
Facebook: https://www.facebook.com/characterdayhk/
Media Enquiries:
Miss Jackie Liu at 9197 6791
Fax: 3583 1331  E-mail: info@seedland.hk