Please scroll down for English
新聞稿(即時發佈)                                                           2016年10月31日
致總編輯/港聞版編輯/教育版編輯/親子版編輯
劉靳麗娟、劉馬露明、阮曾媛琪、馬王培琪、楊孟璋齊賀
Mighty Oaks奧恩國際幼兒園暨幼稚園開放日暨嘉年華
寓學於樂 讓品格教育在社區發光發亮
Photos: http://www.seedland.hk/press/MightyOaks/4/
Press release: http://www.seedland.hk/press/MightyOaks/4/MightyOaks_PostEvent_Chi_final.doc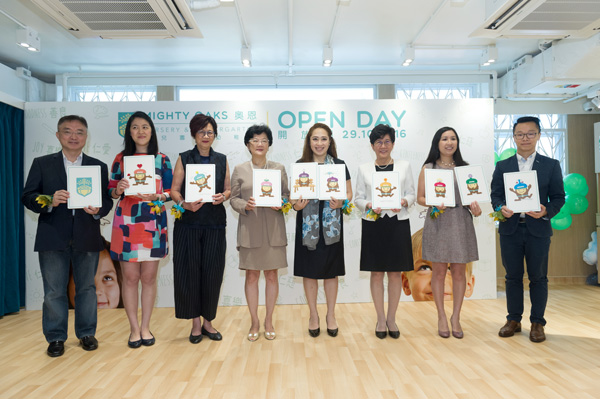 今年落戶堅尼地城的Mighty Oaks奧恩國際幼兒園暨幼稚園主張透過遊戲和探索,達到品格教育的教學目標,並根據九種「聖靈果子」品格特質,包括善良、節制、仁愛、喜樂、和平、仁慈、忠信、溫柔及忍耐,在校本課程中滲入良好的品格元素,從而孕育出品學兼優的傑出學生,成為如同橡樹般堅強、有承擔和富責任感的未來棟樑。為了讓公眾人士進一步瞭解幼兒品格教育的理念,奧恩於2016年10月29日舉辦開放日暨嘉年華,邀請到多名關心品格教育的教育家及知名人士到場支持,場面熱鬧。
開幕典禮於早上開始,首先由奧恩國際幼兒園暨幼稚園校監Kim Kwok及校長鄧沅叞女士向來賓致辭,隨後JEMS Learning House創辦人劉馬露明校長亦獲邀上台,分享品德教育的重要。其後,一眾嘉賓包括拔萃女書院劉靳麗娟校長、香港理工大學副校長(學生及環球事務)阮曾媛琪教授、全城更新主席及「全球禱告日」發起人馬王培琪女士、香港科技園公司首席商務總監楊孟璋先生連同劉馬露明、校監Kim Kwok小姐、校長鄧沅叞及學校發展經理張鎛驜先生,一同主持簡單而隆重的啟動儀式,把手上印有奧恩校名的牌翻轉,向外界展示奧恩國際幼兒園暨幼稚園所推崇的九種「聖靈果子」品格特質。
隨著開幕儀式順利結束,開放日暨嘉年華亦正式開始。嘉賓獲邀參觀校舍多項綠色設計如讓學生親嘗種植有機菜的戶外有機種植區、自給自足的「魚菜共生」生態循環裝置,以及奧恩為融合環保和安全元素的特色設施,包括圖書消毒機、以蔬菜為原料的顏料及蠟筆等。種種設施均體現出奧恩團隊的用心,務求為學生營造一個安全、愉快的互動學習環境。是日,奧恩更準備了多項互動遊戲和工作坊,把奧恩所重視的品格特質融入遊戲當中,讓參觀的小朋友寓學習於娛樂,完成活動後更可收集「聖靈果子」印章,換取精美紀念品,歡度愉快又難忘的一天。
奧恩國際幼兒園暨幼稚園鄧沅叞校長分享︰「很高興這次開放日暨嘉年華得到各界朋友踴躍參與,我們相信品格教育能讓孩子受用一生,而幼兒時期正是打好根基的關鍵時刻。品格教育從來沒有捷徑可走,家長及老師的角色同樣重要,兩者必須互相配合才能發揮最大效用。希望大家享受今天的活動,亦藉此認識我們的辦學理念,讓更多人瞭解品格教育的重要,培育真正品學兼優的孩子!」
關於奧恩國際幼兒園暨幼稚園
奧恩國際幼兒園暨幼稚園(Mighty Oaks International Nursery & Kindergarten)成立於2016年,主張透過遊戲和探索,建立幼兒良好品格,成為如同橡樹(Mighty Oaks)般堅強、有承擔和責任感的未來棟樑。學校課程根據「聖靈果子」設計,包括︰善良、節制、仁愛、喜樂、和平、仁慈、忠信、溫柔及忍耐,合共九種品格特質,融入每月的主題活動中,課程以英國Early Years Foundation Stage Curriculum (EYFS)及加拿大Full-Day Early Learning–Kindergarten Program Curriculum為設計藍本,再按照本港的學習程度加以調整,提供英語、普通話及粵語的兩文三語課程,學生將來不論升讀國際學校或本地小學皆可順利銜接。此外,奧恩亦是參與「香港品格日」的學校之一,進一步推廣品格發展。地址︰香港堅尼地城卑路街46A號隆基大樓1樓  電話︰2806 8383  網址︰www.mightyoaksedu.hk  Facebook︰www.facebook.com/mightyoaksedu
發稿:奧恩國際幼兒園暨幼稚園     代行:一口田有限公司
電話:3583 3100  傳真:3583 1331 電郵:info@seedland.hk
如欲查詢詳情、索取照片或安排與奧恩國際幼兒園暨幼稚園代表進行專訪,歡迎致電3583 3300與Miss Jackie Liu聯絡。
For Immediate Release                                                         31st October 2016

Mighty Oaks International Nursery & Kindergarten Open Day & Masquerade: Promoting Character Development into the community through Play and Discovery with the Support of Stella Lau, Christine Ma-Lau, Angelina Yuen, Linda Ma and Andrew Young
Photos: http://www.seedland.hk/press/MightyOaks/4/
Press release: http://www.seedland.hk/press/MightyOaks/4/MightyOaks_PostEvent_Eng_final.doc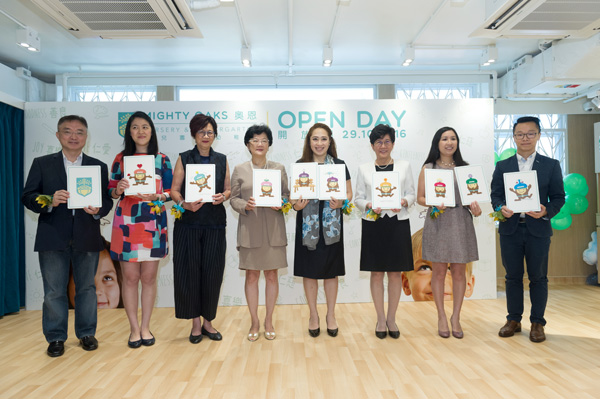 Newly established in Kennedy Town this year, Mighty Oaks International Nursery & Kindergarten aims to foster children's character development through play and discovery. With a specially designed playgroup, nursery and kindergarten curriculum based on the nine "fruit of the spirit", including love, joy, peace, patience, kindness, goodness, faithfulness, gentleness, and self-control, the school is devoted to nurturing students' virtuous character as well as academic excellence, so that they can grow into future leaders that are as strong and dependable as oak trees. In order for parents and the public to have a better understanding of character development, Mighty Oaks held an Open Day & Masquerade event on the 29th October 2016, where many educators and celebrities in town came to the exciting event to show their support.
The opening ceremony commenced with welcoming speeches from Miss Kim Kwok, the School Supervisor, Ms Livia Tang, Principal of Mighty Oaks International Nursery & Kindergarten and Mrs. Christine Ma-Lau, Founder and Principal of JEMS Learning House. After the opening speeches, Mrs. Stella Lau, Headmistress of Diocesan Girls' School, Professor Angelina Yuen, Vice President (Student and Global Affairs) of The Hong Kong Polytechnic University, Mrs. Linda Ma, Chairperson of the Citywide Renewal, "A New Thing" & Organiser of Global Day of Prayer, Mr. Andrew Young, Chief Commercial Officer of Hong Kong Science and Technology Parks Corporation and Mr. Kennie Cheung, School Development Manager of Mighty Oaks were invited on stage to help kick off the Open Day, by flipping cards from Mighty Oaks' logo, to reveal the message of the nine "fruit of the spirit".
Following the opening ceremony, all guests were invited to take a school tour to explore their new eco- green facilities such as the outdoor organic planting area, the aquaponics system that displays ecological harmony, a book sterilizer and the child friendly crayons and paint that are made from vegetables. All the facilities demonstrate Mighty Oak's effort in providing a safe and enjoyable learning environment for students. After the tour the doors were open to the public, where they could enjoy a fun packed day which included various interactive games, workshops and a very magical glow in the dark room. The school managed to integrate character development within the activities. Children were encouraged to collect stamps throughout the school by joining in different activities to redeem a prize when they had finished.
Ms Livia Tang, Principal of Mighty Oaks International Nursery & Kindergarten shared, "We are very glad that the Open Day and Masquerade received fantastic support from the public. We understand that character development should start at an early age, knowing it can bring lifetime of benefits to children. As there are no shortcuts to character development, parents and teachers play equally important roles, and with cooperation we can achieve the great results for our children. We hope everyone enjoyed today's event and were able to have a better understanding of character development, so that we can nurture children to excel in both academically and morally for the community."
About Mighty Oaks International Nursery & Kindergarten
Founded in 2016, Mighty Oaks International Nursery & Kindergarten aims to help students build a wholesome character through play and discovery, so they can grow into future leaders, strong and dependable as oak trees. The school curriculum is specially designed with a unique theme for each month to match one of the nine "fruit of the spirit," corresponding to the nine attributes of love, joy, peace, patience, kindness, goodness, faithfulness, gentleness, and self-control. The curriculum is based upon two of the world's best models for preschool education – the United Kingdom's Early Years Foundation Stages Curriculum (EYFS) and the Canadian Full-Day Early Learning–Kindergarten Program Curriculum – Which has been adapted to suit the learning expectations in Hong Kong. The school offers a trilingual setting, with lessons taught in English, Putonghua, and Cantonese; therefore, students will be well-prepared to enter  ether international or local primary schools. It is also one of the schools that participates in 'Character Day Hong Kong' to further promote character development. Address: 1/F, Lungga Mansion, 46A Belcher's Street, Kennedy Town, Hong Kong. Tel: 2806 8383; Website: www.mightyoaksedu.hk; Facebook: www.facebook.com/mightyoaksedu
Released by:
Seedland International Limited
On behalf of Mighty Oaks International Nursery & Kindergarten
Media Enquiries:
Miss Jackie Liu at 3583 3300
Fax: 3583 1331  E-mail: info@seedland.hk